Digital Marketing
12 May 2023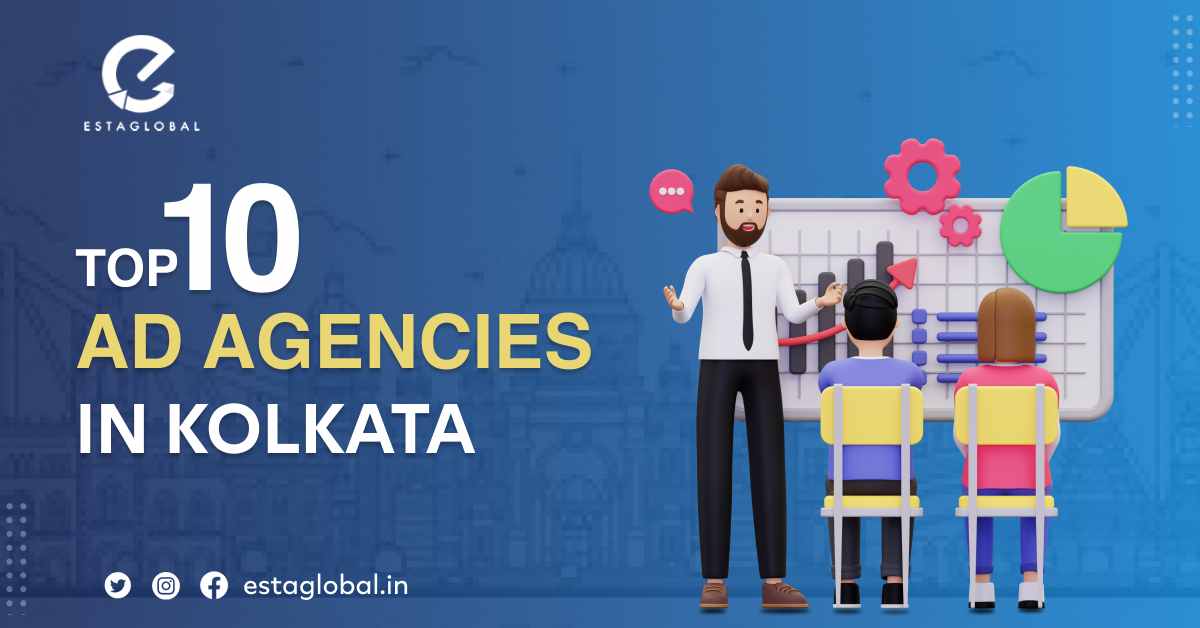 An Ad Agency plays a significant role in helping businesses build brand awareness and reach their target audience. In Kolkata, the commercial capital of East India, digital marketing is growing rapidly. With the shift of more start-ups online, several types of Ad Agencies are also rising every day.
An Ad Agency offers services like graphic designing, multimedia animation, Pay-Per-Click advertising, content marketing, copywriting, and several other promotional aids. The amenities offered by an Ad Agency in Kolkata are also feasible and affordable.
Whether you're a small or a large business owner, these ad agencies in Kolkata can provide you with creative solutions and unconventional game plans to get found by your targeted customers. In this article, we'll talk you through the top 10 types of Ad Agencies in Kolkata to help you rise online.
What are the Best Types of Ad Agency in Kolkata?
Before selecting an Ad Agency, you must get a brief about it.
1. Esta Global
Esta Global is a leading Ad Agency based in Kolkata. It is a house of web developers and digital marketing specialists who are renowned for assisting various businesses to rise online in almost all niches.
Be it content writing, copywriting, guest posting, SEO, SEM, Funnel Marketing, or web design services, Esta Global experts are pros at everything. The staff is polite and treats clients as Gods.
Moreover, their services are highly pocket-friendly. Esta Global has proved itself as the best Ad Agency by helping brands worldwide rank higher in search engine results. Book your appointment now!
Email: info@estaglobal.in
Contact: +918697109160
2. echoVME Digital
echoVME Digital is famous for its team of passionate employees who love building brands. They have years of experience and expertise in their respective fields, which makes them a great Ad Agency.
3. Kreative Machinez
Kreative Machinez is a full-fledged Ad Agency based in Kolkata. It has branches located in Australia, UK, and USA other than India. With a team of young and passionate individuals, this Ad Agency has been awarded as an SEO Agency in 2020.
Moreover, they have handled 600+ clients across the globe and have managed 750+ projects with world-class marketing solutions.
4. Curvearro
Curvearro is a leading Ad Agency in Kolkata with branch offices situated in the USA, UK, Singapore, Canada, and Australia. Their team has worked with around 1500+ companies in niches like banking, finance, eCommerce, healthcare, etc. This Ad Agency is popular for its unconventional and profitable marketing and sales tactics, which are loved across the globe.
5. Webaholic
Webaholic is an online web solution provider and Ad Agency based in Kolkata. It has a team of enthusiastic professionals who are committed to setting new benchmarks in the digital marketing industry.
At Webaholic, they handle more than 100 clients in India alone. Be it mobile development, app development, website design, integrated branding, or social media marketing, this Ad Agency won't let you down. Their stellar mobile app designing service in Kolkata is very popular and workable.
6. Seven Boats Info-System Pvt Ltd
Seven Boats Info-System Pvt Ltd is a Kolkata-based Ad Agency. Founded in 2011 by Debajyoti Banerjee, it offers dynamic marketing and PR solutions that are capable of upscaling any business to the next level.
They provide a wide range of amenities to its clients. The services offered by this Ad Agency include:
Social Media Marketing (SMM)
Search Engine Optimization (SEO)
Content Writing & Marketing
Digital PR
Design Services (Graphic and Web)
Search Engine Marketing (SEM)
Be it Internet Marketing or Ghostwriting, this Ad Agency will provide a full-fledged service at minimal costs. What are you waiting for? Check out their website now!
7. Promoted
Promoted is a digital marketing agency incorporated by two friends, Avik Guha, and Saurav Agarwal in 2015. Based in Kolkata, this Ad Agency initially had a team of 5 members only. After years of hard work, now they have more than 50+ couple of members and have managed around 100+ clients all over India.
This Ad Agency offers services such as Internet Marketing, SEO, Mobile App Development, Public relations, and many more. The teammates are qualified and professional with proper work ethics. Promoted has established itself as a leading Ad Agency in Kolkata through its sheer determination and smart work.
8. Sova Infotech Pvt Ltd
Sova Infotech Pvt Ltd is an all-in-one SEO agency based in Kolkata that offers numerous aids. They are very popular and trusted for their high-quality work and timely delivery. With a branch office located in the UK, this Ad Agency has a team of 45+ members who handle multiple projects of different types.
The main objective of this Ad Agency is to minimize errors and avoid delays in the submission of assigned tasks at all costs. They are always looking for new strategies to generate good leads and drive more sales for their clients.
9. Damiracle
Damiracle started as a web design and digital marketing agency back in 2009. Founded by Debadrita Bose, it has now established itself as an active Ad Agency in Kolkata. They have a record of working with more than 300+ clients and are highly talented in calculating marketing analytics and strategies to increase organic traffic to their client's websites.
10. Websys
Websys was earlier operated under featuredhost.com from 2002-2004. Later, it started operating as a full-fledged Ad Agency after seeing the rise in market demand. They have multiple clients across the globe, mostly from the UK, USA, Singapore, Australia, and Canada.
They provide services such as design and development, Pay-per-Click advertising, Digital PR, Logo Design, Email Marketing, etc. Also, they're proficient in Content writing, Social Media Management, Native App Development, Hybrid App Development, Software Development, Website Maintenance, Brochure Design, and many more.
They have a team of more than 50 professionals who are experts in making sales. Visit their website now to get a quote.
Conclusion
This blog highlighted the details of 10 Ad Agencies based in Kolkata. These provide multiple services, such as SEO, Paid Advertising, SEM, Content Marketing, and so on. Before selecting an Ad Agency, it's important to research it thoroughly. To make this job easier for you, we listed down all of them one by one. Keep following us to read similar articles like this. Cheers!
May You Like Also: