Digital Marketing
08 Dec 2022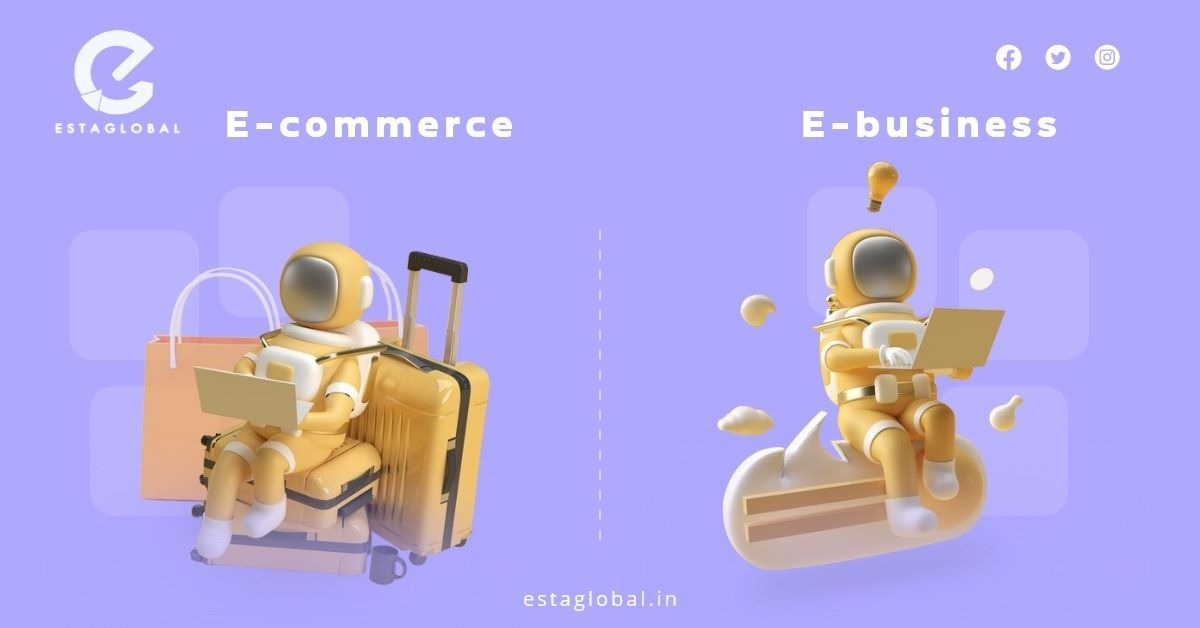 The terms E-commerce and E-business are quite familiar to you, right? But, do you know the difference between these two? Both of them are on the internet, and there is a sharp difference between these two terminologies. E-commerce or Electronic commerce makes it possible for business transactions to be done online, through the internet.
While, Ebusiness is a way by which you manage your company, its works via the internet channels. Is this enough to know? No way, there are a lot of differences between the two that customers and business people tend to confuse.
So, in this blog, we'll give you complete detail about Ecommerce and Ebusiness, their roles, and differences that will be important for you to carry out business operations online. Stay tuned and read the complete blog to have a great understanding of the subject!
First, let's try to understand them one on one.
What is E-commerce?
E-commerce or Electronic commerce as the name suggests is the transaction of products, goods, or services that your company sells online through the internet. You must have used many e-commerce websites such as Amazon to make a purchase or sell your products directly to consumers. Customers place orders and make payments online through various options available on the e-commerce website. There are various forms of E-commerce business. In B2C (Business to Consumer) e-commerce, the products are services are being sold to consumers through the website.
So, the entire process starting from placing the order of the product, paying for it, and having it delivered to your home involves e-commerce in business. In cases where a customer places an order at home, and comes to the store to pay and take the order with them, it is still an e-commerce element that is involved here. The customer gets to know bout your business, about your products online through the internet.
We'll also understand the models of E-commerce and E-business to make a comparison between them. So, let's first see how the e-commerce model operates.
What are the types of e-commerce models?
Business to Consumer(B2C): In this model, the business sells products or services to an individual consumer. Eg: when you purchase an earphone online on the website of any brand, that is B2C service.
Business to Business (B2B): As the name suggests, the goods or services are sold by one business to another business. Eg: A Digital Marketing Company in Kolkata sells video production services for other businesses to use in their marketing campaigns.
Consumer to Consumer (C2C): Here, in this model, an individual consumer sells their goods to consumers online. Example: A person can sell their second-hand product through e-commerce websites to another consumer, or even new products through such platforms.
Consumer to Business(C2B): In this model, an individual consumer offers any type to service to businesses. E.g., Social media influencers promote brands digitally to their followers for fees that businesses pay to them. This type of model often comes under paid/collaboration ads on social media networks such as Instagram and Facebook.
What is E-business?
All types of business activities that you see online come under the umbrella of E-business. It can be anything and everything like purchasing goods, educating your customers about your business, making monetary transactions on the internet, and supplying raw materials. The idea employed here is that the business is not entirely online but it uses the power of the internet to enhance the business that also runs offline.
Some of the prerequisite things for keeping e-business working are our websites, apps, ERP, and CRM that digital marketing companies offer you to keep your E-business going smoothly and consistently.
What are the types of e-business models?
Pure Play: In this type of e-business model, all efforts are vested to sell one product line on online platforms. Eg: a business that only sells customized shoes for men and nothing else would be called a pure-play e-business. Here, the business makes sales both online and offline.
Bricks and Clicks: In this business model also, businesses generate sales both online and offline. For example, A physical medical store in Kolkata that sells medicines online and also allows customers to place medicine orders through their website (online store) is bricks and clicks e-business model.
Now, maybe take a minute and think about the differences that you have understood after knowing E-commerce and E-business models. Done? Alright, It will be very easy for you to understand the differences, and therefore we have jotted all points down here.
What is the difference between E-commerce and E-business?
E-commerce is just one category or piece of an E-business. The e-business model operates online and provides various types of services in which e-commerce is one of the most promising services to attract customers and induce sales primarily through online channels. Any physical store can use social media marketing to bring in more customers both online and offline.
E-commerce is any type of business that offers an online monetary transaction to its customers. While E-businesses are the usage of online technology in any form in their business models. Both E-commerce and E-business thus rely on the power of the internet and technology in today's world of digital marketing in businesses.
The main promoter of any e-commerce business is a customer who is given the source to make any purchase online. While, an E-business runs through customers, business partners, and suppliers who help you to also make e-commerce run possible online along with other operations of the company.
E-commerce is conducted exclusively on the internet. The customers will make purchases through online channels and get them delivered. While, E-businesses can be conducted on the internet, intranet, or extranet. The meaning is to say that even if a business uses online technology for some operations, or within the organization, it is still an e-business. It's not a criterion for e-businesses to make sales. An e-business only becomes e-commerce when customers purchase their goods or services online.
Conclusion:
As you have seen the differences between E-commerce and E-business in Digital Businesses, will help you to make a big impact on how you design your business model successfully. Do you want to take your business completely online? OR, do you want to make an e-business company that does not plan to sell goods online? Well. There is no harm in choosing any of that. In both these cases, your business runs on an e-business model. Your audience will know about your products and services online.
Thus, more online expansion of your business will be a successful key to generating good leads and sales in any form of channel: both online and offline. We hope you have understood the difference between e-commerce and e-business clearly. We also recommend you to re-read and share your thoughts about how you want to take your business model: e-business or e-commerce. We will be happy to help and offer any advice relating to digital marketing strategies and all types of digital services!