Digital Marketing
04 Apr 2023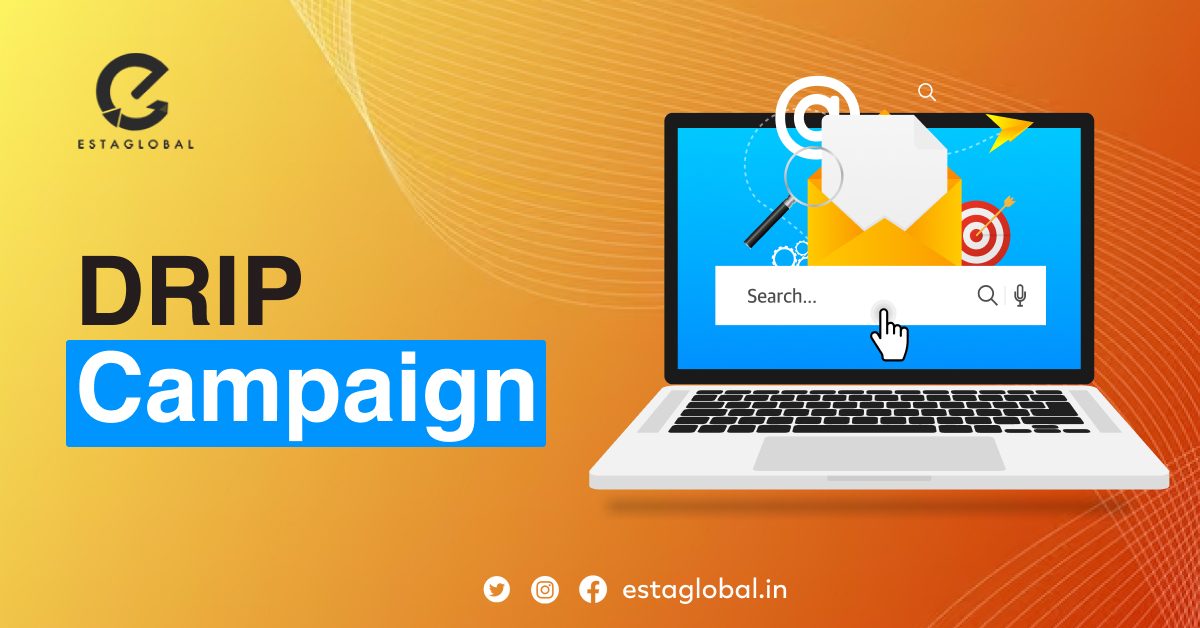 Today's marketing tactics have undergone a vast transformation. Now, we don't rely on ads but have turned to a more personalized approach. Consumers from different markets are constantly receiving tons of emails, texts, and ads. Most of these messages even land in spam boxes! Yet, you can stand apart from these agencies with the help of a drip campaign.
Now, what's that? Drip Marketing, also known as a drip campaign, is a promotional master plan. It has become super popular in recent years. In this blog, we'll let you know more about the concept of drip marketing, how it works, and its benefits.
What is a Drip Campaign?
A drip campaign is a sequence of automated messages that are sent to the targeted leads or potential customers over some time. The purpose of these texts is to build interest in a product or a service and ultimately convert them into clients.
The term 'drip' comes from the idea that these messages are dripped out over time, which means like a leaky nozzle. Drip Campaigns are often used in email marketing, but they can also be used in other channels like social media and direct mail.
A drip campaign aims to nurture the leads and provide guidance to them throughout the buying process. It offers them all the required and relevant information.
How it works
A drip marketing strategy works by sending a series of computerized messages to the buyers or leads. These texts are specifically triggered by an action taken by the lead. For example, it could be signing up for a form on the website or subscribing to a newsletter.

The messages are sent out on a pre-planned timetable, with each message building on the previous one. For instance, the first text might be a welcoming email. It introduces the company and the services offered.

The second message might provide a more detailed description of a product or a service.

The third text might offer a special discount or rebate.

These messages are designed to be in coordination with the lead's needs and interests. For example, if the person has shown interest in a particular product, they would get texts and emails specifically about that product.
Benefits of a Drip Campaign
Drip Marketing gives tough competition to traditional promotional mixes.
1. Increased Engagement
Drip campaigns are powerful enough to attract a lead's attention as they're more targeted. This increases the buyer's susceptibility to engage more with the brand. Also, they can take a desired action, such as booking an appointment or buying a product or service.
2. Improved Conversion Rates
A drip campaign can guide the leads throughout the buying process and provide them with much-needed answers and information. This helps marketers boost their client conversion rates.
3. Time Savings
Drip Marketing is automated. It means it needs less time and energy than traditional marketing methods. Once a campaign is set up, it runs on its own. It saves a lot of time for business owners to cater to other important tasks.
4. Pocket-Friendly
A drip campaign requires less time and resources which makes it more cost-effective than traditional promotional mixes.
5. Data-Collective
Drip Campaigns provide important information about leads, including their needs, behavior, interests, and demographic. This is further helpful in personalizing a drip campaign and generating high results.
Best Practices for Drip Marketing
i) Define your Goals
Set up your goals and objectives before setting up a drip campaign. This will guide you through the content and messaging of the campaign.
ii) Start your Lead Segmentation
Target your clients based on their needs, interests, and demographics. This will allow you to provide a personalized and relevant kind that is more prone to engage them.
iii) Keep it Personal
Personalize the marketing as much as you can. Refer to the lead's name, behavior, reference, or interests. Finally, create unique and informative content matching their demographics.
iv) Test a drip campaign and revamp
Continuously examine and optimize the campaigns to improve their engagement and effectiveness. Test different messages, and subject lines, and send times to see what works best.
V) Use a Clear Call-to-Action Button
Add an appealing CTA (Call-to-Action) button at the end of a message. It should be engaging enough to persuade the user to take an action. Whether it's signing up, making a purchase, or simply visiting the website, it should be clear enough.
Examples of Drip Campaigns
a) E-commerce
A drip campaign for an e-commerce store might include a welcome message, followed by texts about specific products or categories. These could include special offers, product recommendations, and reminders to take action for an abandoned cart.
b) Real Estate
A drip campaign for real estate agents may include messages about new listings, market updates, and tips for buying or selling a home.
c) B2B
A B2B drip campaign could include texts that inform and educate leads about the company's products or services, as well as testimonies or case studies. The messages could be customized to distinct industries or job titles.
d) Health and Fitness
A fitness brand drip campaign could describe various health benefits and drawbacks of not exercising to the leads. It could also include tips for staying motivated and avoiding procrastination. There can be a sample masterclass invitation and special discounts on buying a course.
e) Software
A drip campaign for a software model might include messages that introduce the company and its products, followed by texts to highlight its specific features and benefits.
f) NGO
A drip campaign for a non-profit organization might include messages to educate the leads about the organization's mission and vision. They could also include texts to highlight special programs and activities, like blood donations, marathons, and so on. Check the lead's donation history before starting the campaigns. It could also include opportunities to make a donation or volunteer.
Conclusion
A drip campaign is a high-powered marketing tool that can guide leads throughout the buying process. By providing personalized and relevant content over time, drip marketing can improve engagement, conversion rates, and overall marketing effectiveness. By following the aforesaid practices and continuously testing and revamping the campaigns, businesses can achieve greater success.
You May Like Also: