CRM System
27 Mar 2023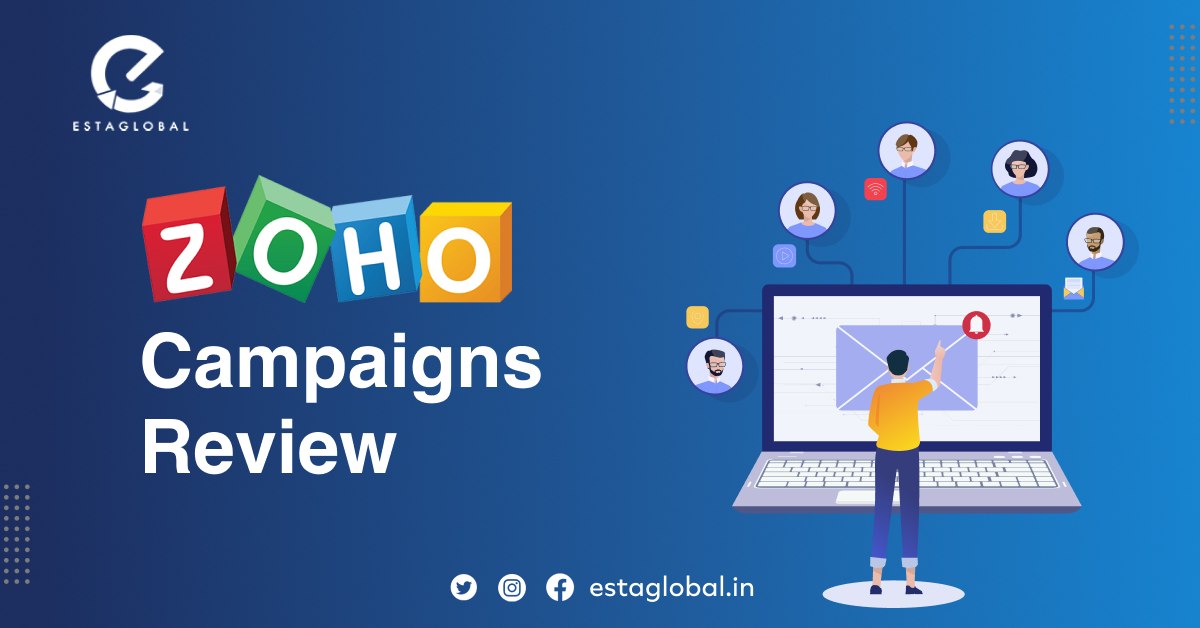 Every digital marketer knows how significant email marketing is for the success of any campaign. In general, it is the actual way to generate high-quality leads. There are many applications that can assist you with that. You can see tons of reviews over the internet. However, you're not sure which one you can use. In case, it's time to switch to Zoho campaigns!
Zoho Campaigns is a popular choice for businesses of all sizes. It is an aerodynamic platform that helps you seamlessly generate your email marketing strategies. Its user-friendly interface and robust features make it accessible to anybody to use it. In this blog, we'll review its pros, cons, pricing, and alternatives.
What do Zoho Campaigns Offer?
Zoho Campaigns is an email marketing automation software from Zoho's suite of applications. It ensures that the entire promotional operations are computerized. It offers a range of business solutions for every niche
Back in 2007, Zoho Corporations realized the need for an integrated system for email promotions. It was this time when Zoho campaigns were launched. The company is a privately held organization based in India.
Zoho Campaigns Pros
Here are some potential benefits of using Zoho campaigns.
1. User-Friendly
The most crucial feature of Zoho campaigns is their adaptable and easy-to-understand interface. It's super easy to create professional-looking email marketing campaigns through this tool, even if you have zero design experience.
2. Customisable Templates
Zoho Campaigns offers a variety of email templates depending on your needs and preferences. You can also add your branding components to ensure that your emails align with your brand's overall aesthetics.
3. Vigorous Features
The zoho campaigns software allows you to access a vast range of features to help you create an effective email. Some of these include social media integration, advanced analytics, A/B testing, and so on.
You can use the A/B testing feature to experiment with different subject lines and email content to optimise your campaigns for maximum engagement.
4. Integration
Zoho campaigns allow their amalgamation with other Zoho-suite products. If you already use other tools like Zoho Books or CRM, this feature would be very appealing to you!
5. Excellent Customer Support
Zoho Campaigns offer an extensive client success facility, through phones, emails, live chats, and knowledgeable resources. These could be articles and tutorials to assist you in operating this software. All your queries and doubts are solved in the best possible way.
6. Advanced Analytics
The zoho campaigns tool offers an advanced analytics feature that assists you in tracking metrics such as open rates, click-through rates, and conversion rates.
Zoho Campaigns Cons
While there are many benefits to using zoho campaigns, there are some potential drawbacks too.
1. Limited Third-Party Integrations
Though zoho campaigns offer excellent integration features, they may not have the same level of amalgamation as their competitors.
2. Limited Design Customisation
If a user is an expert and wants to create a highly-customised email, then zoho campaigns may not support it well. Its customising features are limited to a specific boundary.
3. Email Delivery Issues
Most businesses have offered mail deliverability issues. They've reported that the emails are not reaching the leads and are getting caught in spam boxes. While this is not unique to zoho campaigns, it can be frustrating to business owners who want to ensure that the messages reach the targeted audience.
4. Limited Automation Options
Zoho Campaigns has its limitations regarding the computerisation feature. It allows the automation of autoresponders and triggered emails, but may not match the levels of its competitors.
5. Limited Customer Support
Currently, zoho campaigns do not support 24*7 customer assistance aid. There may not be prompt responses to technical or other issues like its rival software.
Zoho Campaigns Pricing
Zoho Campaigns offer a wide range of pricing options to suit the needs of businesses of all sizes. The tariff depends upon the number of subscribers you have.
The basic plan starts at $5 per month for 500 subscribers.
The next package is between $10 to $350 per month, depending on your subscriber base and the features you need.
Some advanced features are only available to high-tier buyers.
The zoho campaigns also allow business owners to avail of a free version with limited features so that they can access which plan they want to purchase.
Zoho Campaigns Alternatives
There are several other substitutes to zoho campaigns, which can suit your wants and needs.
1. Mailchimp
Mailchimp is a popular email marketing tool which assists in automation, email designing, and automation. It also supports integration with tools such as social media portals.
2. HubSpot
HubSpot is a meticulous platform that supports other features too, other than email marketing. A few of these are CRM, website analytics, and social media management.
3. Constant Contact
Like zoho campaigns, this user-friendly platform also allows list management other than template customisation and integration with other marketing tools.
4. Sendinblue
Sendinblue is an all-in-one email marketing platform that also allows SMS marketing, chat, and automation features.
5. Campaign Monitor
Campaign Monitor offers drag-and-drop email design tools, audience segmentation, and amalgamation with popular tools like Salesforce.
6. ActiveCampaign
ActiveCampaign is a marketing automation tool that offers email marketing, CRM, and messaging tools.
7. GetResponse
GetResponse also provides a landing page creation feature other than email marketing and automation features.
8. ConvertKit
This tool is specially developed for bloggers and content creators. It offers features such as automated email sequences, customisable opt-in forms, and subscriber tagging to assist users in delivering content to their targeted clients.
9. AWeber
AWeber is the ultimate email marketing software that supports a range of features. Some of these are drag-and-drop design tools, automation, and subscriber segmentation. It also provides integrations with other social media platforms like Facebook and even WordPress.
10. SendX
SendX allows amalgamation with other tools like Salesforce and Zapier. It is somewhat similar to zoho campaigns in the sense that it provides A/B testing features and a drag-and-drop editor.
Conclusion
In this article, we concluded how useful zoho campaigns can be, with their alternatives as well. However, every tool has its disadvantages, just like this one. You can discover more about this software by visiting their platform. Also, you can unfold other portals to understand which one suits your wants and pockets better!