Digital Marketing
21 Mar 2023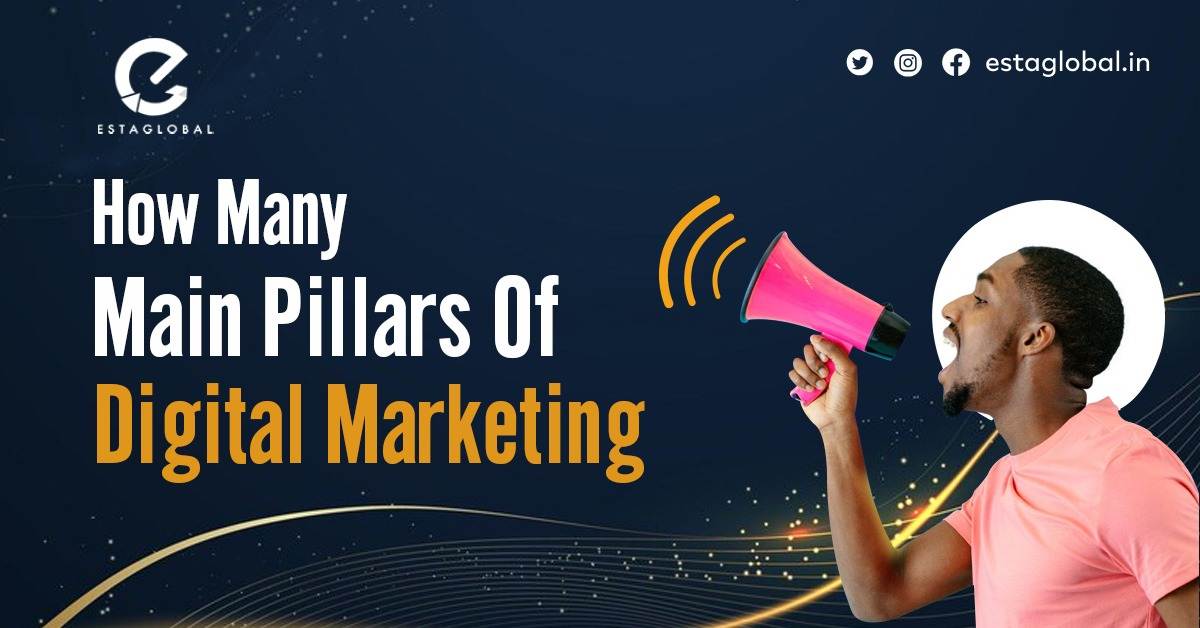 Digital marketing or Public Relations has now become a trend for businesses. It not only helps them rank higher on Search Engines but also enables them to earn more revenue. Gone are the days when people relied on cold calling to generate leads for their start-ups. Now, everything has been shifted online and many new technologies have been launched to help entrepreneurs.
SEO agencies also help companies to improve their reputation in a time of crisis. This is called Reputational PR which often comes in the form of press releases, content strategies, and so on. However, there are some pillars of digital marketing that you must know about to succeed in this field.
What are the Main Pillars of Digital Marketing?
1. Search Engine Optimisation (SEO)
This pillar is one of the top practices that every online marketer should know about. It involves applying certain strategies to help a website rank higher in the search results. It can be done in many ways.
Some of them are blogging, website optimization, keyword research, creating high-quality content, creating backlinks, and so on. In Kolkata, one can approach SEO experts to conduct these activities in the best possible way.
2. Content Marketing
Creating unique content and distributing it to the targeted audience is what is called content marketing. This content is usually in the form of reels, blogs, articles, social media posts, infographics, and many more.
Copywriting is also a valuable part of this job. It involves creating clear marketing copies to encourage the customers to take an action, like booking a session, buying a product, or simply navigating through the website. You must ensure that the content must be free from grammatical errors or plagiarism or it could be penalized.
3. Pay-Per-Click (PPC Management)
You must have noticed several ads in the search bar. Where do these come from? Have you wondered? These come through PPC or Pay-Per-Click. It is a form of advertising in which the advertisers pay every time a user clicks on their ad.
This clicking results from the visitor taking interest in the website and landing on it. The amount to be paid is determined by a bidding system. Here, the advertisers bid on the transition terms or phrases they're targeting.
There are several kinds of advertising, namely Facebook ads, Google ads, LinkedIn ads, and many more. Companies in Kolkata can target their audience who have visited their website once and have subscribed to their newsletters. They could also re-target the people who had landed on their page but didn't take any action. Also, they could target their previous customers.
The highest bidder is allowed to set up their ads when a person searches for that particular keyword. Pay-Per-Click is commonly used in SEO but it can be used in other forms of online marketing too.
4. Social Media Marketing
Social Media is now an integral part of everybody's lives. People use these platforms to scroll, watch videos and recipes, upload posts, and other sorts of entertainment. Nowadays, marketing agencies are also using it to publish ads in the form of video content or influencer marketing.
They pair up with social media influencers with high followers and carry out paid collaborations with them. Also, they regularly share stories and posts as per their social media calendars. To engage their audience, they conduct Q&A sessions to know what their brand needs to improve. They also conduct surveys to know about their competitors' game plans and the updated tastes and preferences of the audience.
5. Email Marketing
Email Marketing involves sending promotional messages to a group of people in the form of emails. These people are the target segment. This PR method will remain the pillar of digital marketing in 2023 for several reasons.
However, most people mark these emails as spam or simply unsubscribe from them. Why? Because companies in Kolkata send too many junk mails at once which would naturally irritate any person.
Hence, companies should focus on creating personalized campaigns. It means they should not send more than three emails per week. They should focus on creating compelling taglines and graphics to grab the attention of their leads.
They should start by creating a list of their potential site visitors. Also, this list can involve their previous customers and people who had subscribed to their newsletters. You can research what their interests are and send them emails that would be relevant to their needs and preferences.
(FAQ) Frequently Asked Questions
I) Why choose a digital marketing career in 2023?
Digital Marketing has several career options for enthusiasts. Be it content writing, graphic designing, or account managing, this industry has something to offer to everyone. Also, it is evolving every day. One can succeed in it as a freelancer too and make millions.
ii) What do marketers need to know in 2023?
Online marketers must know about the regularly changing tastes and trends. They must also know about the integrated video and written content. Creating videos to showcase the brand is what attracts the customers most.
iii) What digital marketing skills you must learn in 2023?
Here are the following skill sets which are in trend in 2023.
Data and Analytics
Conversion Rate Optimisation (CRO)
Marketing Automation
Influencer Marketing
Copywriting
Content Strategy
Social Media Marketing
iv) What are the marketing challenges in 2023?
Marketers are facing challenges in 2023 such as
Economic Uncertainty
Protection of the privacy of consumers
Destruction of the third-party data
Cost-cutting
Increased employee turnover
Variable behaviors of customers in spending money
Conclusion
In this article, we discussed what are the key pillars of digital marketing in 2023. Remember that though technology has evolved rapidly, online PR would still never get replaced. It is something that requires consistent hard work and sheer strategies.
You can anytime hire a digital marketing agency if you're new in the market or facing the problem of poor sales. PR professionals can also help you if you're not able to manage all your promotional activities alone. You just have to be patient and trust them and trust them since lead generation takes time.
Hope you liked this blog. Cheers!
You May Like Also: