CRM System
02 Feb 2023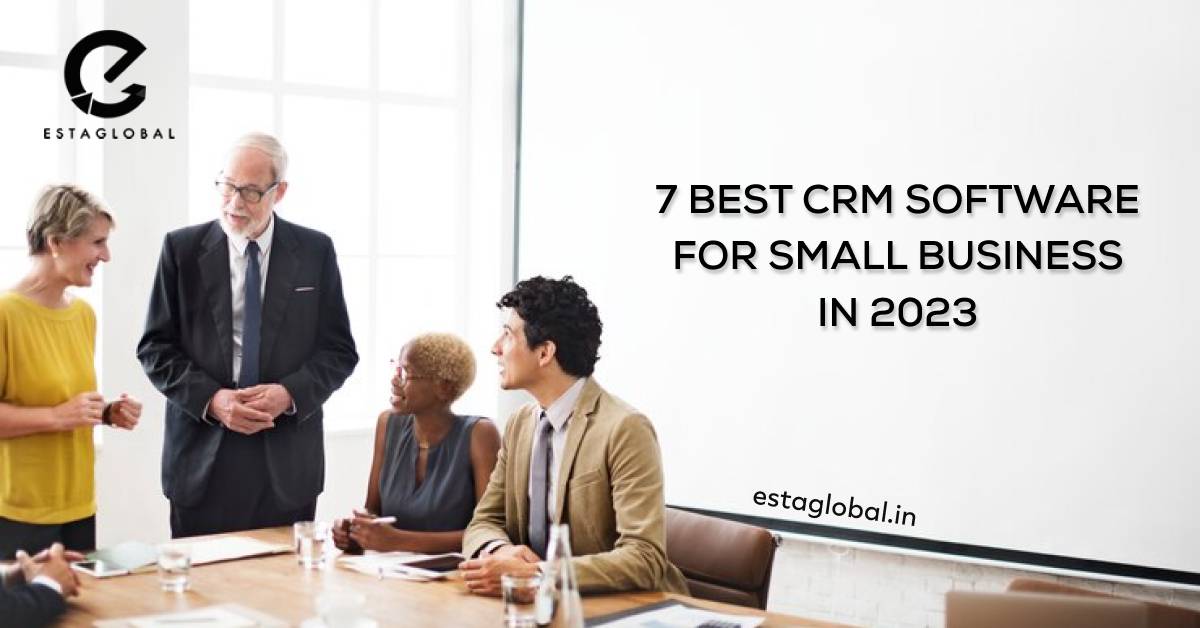 A crucial component of any firm is customer relationship management software. You need to keep track of how your business interacts with both existing and potential clients in a data management hub.
How does this appear? A CRM system, however, can be as basic as the list of contacts on your phone or a spreadsheet of the clients your sales teams have contacted.
Modern CRM systems include more advanced capabilities, including the ability to record transactions, send automated sequence emails to leads, track sales, and more. With the help of these features, small businesses may manage leads and increase sales by automating the sales process and using customer data.
Therefore, CRM software is crucial for small businesses. Simple CRM software can be used as a preliminary step if you're just getting started. After that, if your business expands, you can take on more multifaceted CRM systems.
The best CRM systems for small businesses available in 2023 are discussed below. Make the finest CRM software selection for your company in 2023 and beyond with the information provided.
i) HubSpot
For small businesses seeking an affordable way to get started, HubSpot is the best CRM software. For its CRM, Sales, Digital Marketing, and Service hubs, it provides free plans. Users and contacts are both unlimited in the free HubSpot CRM. It is always free as well. Many of the features, however, are restricted or missing with the free plan.
You must upgrade to one of their paid plans under the Growth Suite plan for accessing the robust features. You can link service, sales, and marketing hubs to your CRM software since HubSpot is quite user-friendly. As a result, you have access to a wide variety of tools for effectively managing the client journey.
You can have a bird's eye view of the whole sales funnel on your dashboard thanks to an intuitive user interface. You may see comprehensive reports, every sales activity, contact activity, and the user or team performance.
In addition to mobile apps for iPhone and Android, HubSpot also provides a contact manager, real-time notifications, email templates, phone calls, scheduling, email tracking, and other comprehensive features.
For CRM software, integrations are essential. More than 300 apps and services, including WordPress, lead-generating software like OptinMonster, the best email marketing firms, and many more, are integrated with HubSpot.
Pricing: The core CRM platform is offered by HubSpot for free. Starting at $50 per month and including two users, you may elevate to their paid plans for Marketing, Sales, and Service hubs or the CRM Suite for further features.
ii) Salesflare
A robust and user-friendly CRM system for small businesses is Salesflare. Four pillar features—organize, integrate, communicate, and automate—form the foundation of the platform. By showing everything in one place and presenting it to you in a visual pipeline format, Salesflare CRM puts you in control. You can obtain insights, add tasks, see live notifications, set up custom fields, and collaborate with team members.
Their platform's fully automatic contact and corporate information autofill are pretty awesome. Salesflare automatically fills up the address book rather than requiring you to hunt through LinkedIn profiles and other channels.
In addition to email marketing services and other business tools, they integrate with more than 1000+ well-known platforms.
You can stay on top always and never miss a follow-up chance, thanks to Salesflare's smart follow-up tools. They provide nifty automation that allows you to follow up depending on consumer triggers and interactions.
Pricing: A free trial is available for Salesflare. Their introductory package is $29 a month per user.
iii) Pipedrive
Pipedrive is a sales-focused CRM system for small businesses and also large companies. With an easy-to-use user interface, it provides comprehensive sales pipeline management and gives you instant access to all the data you require.
Features like sales reporting, detailed activity logs, sales forecasting, advanced contact details, customizable pipelines, and email integrations are included which are Web designed for sales teams.
You may connect your CRM system to other services you already use since it has an expanding array of integration apps. You can stay connected and complete tasks using its iOS and Android mobile apps.
Pricing: Annually billed prices for their plans begin at $14.90 per user, per month.
iv) Freshsales
Another well-known CRM system for small and large businesses is called Freshsales. It has a sales-focused strategy and tools to increase conversions. They provide a one-stop dashboard allowing you to manage users, contacts, phone calls, emails, reports, and activities all at once. It offers a simple web interface and strong mobile apps to support your teams' on-the-go sales.
With AI-powered lead scoring from Freshsales, you can prioritize leads more likely to convert. Other noteworthy features include event tracking, visual sales pipelines, custom workflows, actionable insights into conversations, and more.
Some of the most popular third-party services have native integrations from it. There are further integrations accessible via third-party apps. However, there are currently only a few integrations available.
Pricing: Plans begin at a monthly cost of $15 per user when paid annually.
v) Drip
Drip is yet another prominent e-commerce CRM software that helps businesses it is meant to boost sales. It is very simple to use yet incredibly powerful owing to its intuitive user interface. It has many features, such as e-commerce user tracking, marketing automation, actionable reports, advanced contact management, one-on-one conversations, email campaigns, and more.
Native integrations for all renowned third-party services are included with Drip. Email services, SMS services, lead generation software, Shopify, and WooCommerce are examples of this. It provides lead-generation workflows for Facebook and Instagram, allowing you to tap into their extensive user base.
Pricing: Plans for Drip start at $39 per month till 2500 contacts.
vi) Streak CRM for Gmail
Streak is a Gmail CRM system that functions with both Google Workspace and free Gmail accounts. It enables you to manage contacts, track client emails in Gmail, manage sales pipelines and track leads, It allows you to add tasks, reminders, notes, tags, schedule emails, create custom pipelines, and much more. It also automatically collects leads from your contacts.
Along with mobile apps for iOS and Android, it is also available as a browser add-on. It allows you to share data across various services and tools by supporting third-party integrations via Gmail and Zapier.
Pricing: For personal usage, they provide a limited free plan. When billed annually, their paid plans start at $15 per month for single users and $49 per user per month for companies.
vii) Agile CRM
Agile CRM is a powerful all-purpose CRM system for small businesses and large ones. The dashboard conveniently combines contact management, marketing, sales, and customer support.
It provides sales tools for your sales team that include a 360-degree contact view, timelines, detailed reports, calendars, project management, events, deals, as well as gamification. To keep track of everything happening around your business, you have access to quick reports that you can drill down into. Agile CRM comes with marketing tools for lead generation and lead capture, sending emails, landing pages, forms, newsletters, and social media marketing.
Pricing: Agile CRM has a restricted free plan. Their paid options start at $8.99 per user for two years or $9.99 per user per month when billed annually.
Conclusion
It can be difficult to select the best CRM system for your specific business requirements. There is a plethora of available options, and each one makes intriguing claims. Finding the best one for you ultimately comes down to taking your team, goals, and budget into consideration. Optimistically, this article has helped you in getting some clarity regarding the top CRM software performers.
To get you started with the powerful customer relationship management tools, this blog gives you enough information. You will succeed in taking your business to a whole new level with the right CRM system for small businesses.
Read Also: