Digital Marketing
16 Jan 2023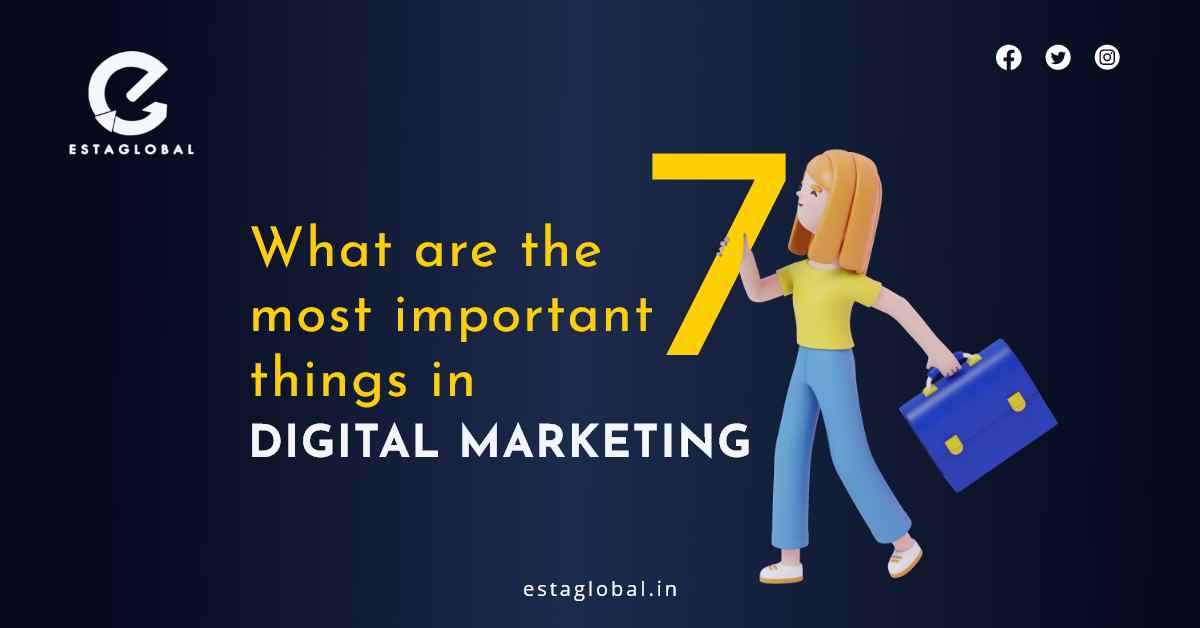 The way you approach a digital marketing plan will depend on the objectives of your particular business, but there are a few things to keep in mind that will keep you on the path to success. The Return on Investment (ROI) of online marketing tactics is much higher than that of traditional marketing. If you're not already using digital marketing, you're probably losing out on lucrative sales and leads.
This post will help you to stay on track if you are involved with digital marketing and seeking a strategic plan.
A Profound Look at the 7 Most Important Elements of Digital Marketing
i) Search Engine Optimization (SEO)
The cornerstone of successful digital marketing is search engine optimization (SEO), which refers to a variety of strategies aimed at enhancing your rankings in online search results. Ironically, 75% of users never scroll past search results on the first page.
The majority of visitors won't ever find even the best-designed website if it doesn't appear on the first page of search results. More eligible leads will discover and get in touch with your company when looking for items or services connected to your industry if your website appears at the top of search engine results pages (SERPs). Simply stated, the number of leads, calls, and revenue for your business is amplified by higher search rankings.
How to rank high in the results of a search engine? For your firm, you can employ a variety of SEO techniques, such as:
Produce informative content that addresses searchers' queries.
Clean up the code on your website to speed up the page.
Streamline the design and navigation of your website to enhance user experience (UX)
Obtain backlinks from credible websites.
Do not expect results right away; keep in mind that Local SEO is a long-term approach. The results of SEO are definitely worth the investment for your company even if it involves ongoing maintenance (also known as managing a digital marketing campaign) to maintain top ranks.
ii) Pay-per-click (PPC) Advertising
While establishing organic rankings with SEO, pay-per-click (PPC) advertising is a great way to stay visible in search results. PPC is an affordable choice for companies in most industries if you're trying to increase your rankings rapidly. PPC can begin generating qualified leads for your site the moment your ads go live.
One of PPC advertising's best features is when people click on your ads; you need to pay only that time. As a result, you won't waste money trying to sell your services or products to those who aren't interested in them. Additionally, you can zero in on your target audience with PPC offering advanced targeting options.
PPC lets you target individuals based on their demographic locations and even the devices they use. PPC is an essential component of successful digital marketing because of its cost-effectiveness and targeting options.
iii) Web Design
Ultimately, your website is where leads are driven back to by your digital marketing strategies; therefore your website should leave an effective impact on potential consumers. Web design is a key component of any online marketing plan because it accounts for nearly 95% of a person's first impression. Visitors will probably look for the back button if your website loads slowly or appears like it was designed in the 1990s.
You must have a unique graphic design that represents your business and makes it simple for visitors to locate the information they require if you want to keep them interested and engaged on your site. You should optimize your site's loading time and streamline the navigation to enhance user experience and make it simpler for leads to get in touch with you.
iv) Content Marketing
You must include content in your digital marketing strategy if you want to improve your search rankings and aid potential customers in learning more about your company. Given that content marketing creates 3 times more leads than traditional marketing, it's a wonderful approach if you want to increase leads and revenue. A crucial element of content marketing is quality content.
You can select relevant keywords for your company and respond to searchers' inquiries by creating high-quality content, which will help you rank higher. It's vital to consider quality and depth when producing content. Are searchers left with queries after reading your content, or does it properly address their questions?
Do your calls to action (CTAs) make it clear to readers what to do next? By considering the answers to these queries, you can produce content that not only dominates search engine results but also gives website visitors the knowledge they require to proceed further with your corporation.
v) Social Media Marketing
Social media is a valuable part of digital marketing since so many people use it. You may connect with both present and potential clients via social media and build relationships with them. They can interact with you and ask you directly on social media if they have inquiries about your products and services.
You may also run paid ads on most social media networks to target and connect with your ideal clients. A useful tool for providing customer service is social media. Whether to inquire or express issues about a product or service, 70 percent of individuals opt for social media.
Increase the effectiveness of your social media efforts by promptly responding to comments and doing it in a manner that your followers will appreciate. In the end, doing this will assist you in winning over the confidence of your audience as well as urging them to remain loyal customers.
vi) Email Marketing
Email marketing is another effective digital marketing strategy. You are aware consumers are interested in the products and services you offer since they have chosen to receive your emails. Email marketing is a fantastic lead-nurturing approach since it enables you to track up with prospective clients and offer information about services or products that may be of interest to them.
Using segmentation, you may deliver content that resonates with subscribers by personalizing your emails based on their needs and interests. When a consumer subscribes, makes a purchase, or performs any specific activity on your website, you can automate your email strategy to send them an email. This is a brilliant strategy for making your marketing more effective while freeing up your time to manage other aspects of your company.
vii) Marketing Analytics
You should make analytics a crucial part of your digital marketing plan in addition to the essential components of digital marketing mentioned above. You should constantly keep an eye on the vital campaign-related metrics if you want to keep generating more lead generation and revenue.
You may enhance your efforts to reach more clients by keeping an eye on key performance indicators (KPIs), such as conversion rates and cost per lead. In other words, keeping an eye on your analytics can help you maintain high profitability and cheap marketing expenditures.
Conclusion
Successful digital marketing methods are never easy to implement, but with a little effort, you can succeed in making them work for you. Just keep in mind that the goal is to shift your attention from revenue and conversions to the human element, which includes your Product brand story, the buyer's journey, and their engagement. You'll impress your clients and coworkers when you can authentically engage a wide audience.